Have one of your teeth been knocked out and left a gap?
Here at Dentist Preston we can provide you with one of the best dental implant services in the North West, so you can rest assured that you are getting the best possible treatment available. As soon as you contact us you will be able to feel the professionalism that our fantastic receptionist staff emit.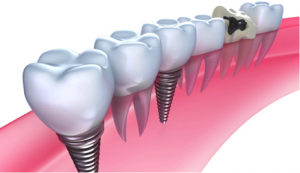 Dental implants provide a number of different benefits, one of which is the fact that they reduce the load on the remaining oral teeth by offering independent support and retention to crowns and bridgework. Another fantastic reason to get dental implants is that they can help to preserve the natural tooth tissue by avoiding the need to cut down adjacent teeth in order to place in dental bridges. They also significantly reduce bone deterioration that results in the loss of jawbone height and could possibly lead to jaw problems.
If dental implants isn't something that you are looking for, you can still contact us for any type of dental treatment that may require. We have a fantastic team of dentists that are highly qualified in a huge range of other cosmetic dental treatments such as tooth whitening, crowns, veneers and a lot more. So no matter what type of dental work you are looking for, we are the place for you. Contact us either by phone or via email and one of our many specialists will provide you with all the information that you require!
Share