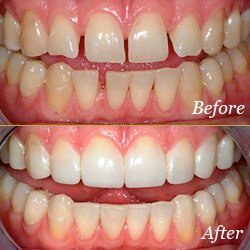 Dental Bonding Preston is the application of a tooth-coloured resin to repair a decayed, chipped, fractured or discoloured tooth. However, unlike veneers, which are manufactured in a laboratory and require a mold to achieve an exact fit; our Dental Bonding Preston can be done in a single visit.
Tooth Bonding in Preston
Tooth Bonding in Preston is a cheap and easy cosmetic dental procedure that we offer at at our Dentistry in Preston. The composite resin used in our Tooth Bonding in Preston can be shaped and polished to match the teeth surrounding the one that needs work. The main reason that people decide to get bonding treatment is to improve the appearance of a chipped or a discoloured tooth.
Our dentists are known for being able to provide one of the best services in the North West and will use a shade guide to select the colour of the composite that will best match the rest of your teeth. Once they have done that they will slightly abrade or etch the surface of the tooth that requires treatment to roughen it up and then coat the tooth with a conditioning liquid which will aid the material.
If you would like to know additional information about the Dental Bonding that we're able to offer then call us today. We will tell you everything you need to know about our services. We'll also give you answers to any questions and concerns that you may have. If you can call us, then please feel free to send us an email. We will contact you at a time which is more convenient for you.