Dental implants are rapidly becoming one of the most important treatments if you are considering replacing any of your missing teeth due to a number of reasons:
No preparation of any other teeth so maintaining their longevity
A solid retentive tooth that does not need to be removed
Excellent aesthetics can be achieved
Possible to replace the teeth in just one visit
However, like all dental treatments, dental implants are not for everyone and a full assessment is required before this treatment can be achieved.
One of our dentists will assess the following things:
The underlying bone level
The generate state of the rest of the dentition
Is the gum condition stable?
Are any other teeth coming to the end of their life?
Your expectations, are they reasonable?
Do you understand the surgical procedure and will you be able to cope with the surgery?
Will you be able to look after the implant after the surgery and attend for the necessary maintenance?
The dental implants that we're able to provide at our dental practice in Preston are made up of titanium and vary on size depending on the amount of bone that you have available. During the treatment you will have the area with the missing tooth numbered just as you would if you were having a filling. Your dentist will firstly peel the gum back and then place the dental implant in the correct position, although this is a surgical treatment, you will not be able to feel anything and you are fully aware of all of the work that is being carried out. The gum will then be put back and dissolving stitches will be applied to hold the gum in place.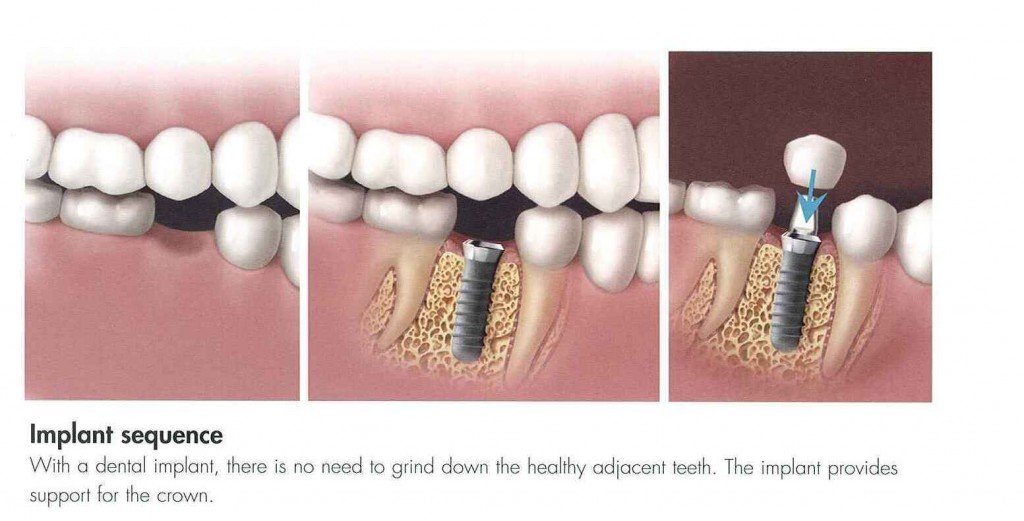 The dental implant procedure is extremely quick and can be completed in just one visit, after the treatment you will be send home with a complete list of instructions of the best way for you to look after your implants and for good general dental tips. Most patients can feel some form of discomfort, however you shouldn't worry as this can be reduced by taking some painkillers.
After Three Months
After the initial first three months your dental implant should have infused with the bone (osseo-integration). Once this process is fully complete, the implant will be able to hold a dental crown which will then enable you to bite and chew. It's possible for you to have a number of dental implants in order to support a larger structure which is more commonly known as a dental bridge. The implant and crown combined will look exactly like a natural tooth and will be almost impossible for people to see the difference.

How Long Will My Dental Implant Last?
It's impossible for us to tell you how long that your dental implant will last, but it's possible for your dental implant to fail if you don't take regular care of them so it's essential for you to look after your implant as well as your natural teeth. If you require any more info, please don't hesitate to get in touch.
Here's What One Of Our Clients Had To Say About Our Dental Implants in Preston
Share